A Writer's Guide to Active Setting:
How to Enhance Your Fiction with More Descriptive, Dynamic Settings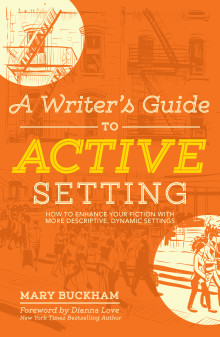 Now get all three books of the WRITING ACTIVE SETTING series together, plus a bonus additional section on HOOKS!
Available in Print and ebook (published by Writer's Digest)
Have you tried to take your writing skills to the next level but don't know where to begin?
Do you dread the thought of writing narrative description because as a reader you skip over it when you read novels?
Or are you a writer who ignores Setting description totally in your novel writing—but know your story needs it? You just don't know where.
Active Setting, explained in comprehensible bites with clear examples from a variety of published authors can help YOU breakthrough with your writing skills.
Readers usually remember the plot and characters of a story, but setting is every bit as important in creating a memorable world. Novel writing can be enjoyable once you've mastered a few of the writing skills necessary to bring a story to life.
If you're tired of your Setting descriptions being ho-hum and are ready to create a compelling story world, regardless of what you write, or your current level of writing skills, keep reading.
• Discover the difference between Ordinary Setting that bogs down your story, and Active Setting that empowers your story.
• See how to spin boring descriptions into engaging prose.
• Learn to deepen the reader's experience of your story world through sensory details.
• Notice how changing characters' POV can change your setting.
• Explore ways to maximize the setting possibilities in your story.
• Learn to use Setting to quickly anchor the reader into the world of your story.
• Use Setting as movement through space effectively.
• Explore Setting in a series.
• Learn the most common Setting pitfalls.
These books go straight to the point, putting theory in plain language, adding examples from authors in a variety of genres, and finishes each section with exercises designed to help you work with your Setting in a way that will excite you. . .and your reader.
What other authors are saying.
The Active Setting series takes an all too often overlooked technique, and elevates it to a next-level game changer for powerful fiction. ~~ Cathy Yardley, author of Rock Your Plot
WRITING ACTIVE SETTING is a powerful combination of fresh insights, practical examples, and how-to advice on the often overlooked but critical element of Setting … written in a quick-to-read and easy-to-understand style, and packed with useful application exercises. ~~ Kelly L. Stone, author of THINKING WRITE: The Secret to Freeing Your Creative Mind
If you're a writer, then Mary Buckham's book, Writing Active Settings, is a must-have tool for your writer's toolkit. Creating settings that are rich and believable is not an easy task, but with this book, I found that each chapter gave me great tips that I could immediately implement in my manuscript. ~ Laurie G. Adams, author of Finding Atticus